Zoom Security
During COVID-19
Zoom faced scrutiny at the beginning of the COVID-19 pandemic as its security measures couldn't keep up with the surge of users using the platform. The platform has always focused on ease of use above all else, and the security measures fell short.
The platform did not provide end-to-end encryption, lacked transparency as user data usage faced cloud meeting interceptions by internet harassers and added strangers to public contact lists. Zoom meeting IDs are also easily accessible by hackers, among other discrepancies. With the platform's ease of use have come security mishaps, which are rooted in the company being unprepared for such an influx of users in early 2020.
The 5.0 version of Zoom addressed many of these issues. Some security features include profile picture control, minimum password length for meetings, cloud recording security and 256-bit AES-GCM encryption. Additional meeting controls, data controls, an encryption icon and a report-a-user feature are also featured on 5.0.
Cisco Webex
Security
Cisco Webex was one of the first video conferencing platforms on the market. Webex formed in 1996, and in 2007, Cisco acquired the platform and transformed it from one with potential to one that is now world-renowned for being the most secure all-in-one platform. Cisco Webex is used most often in the professional world and therefore doesn't have the frills that a platform like Zoom has. However, it makes up for this in top-of-the-line security and functionality.
Unlike Zoom, Webex already had a strong basis of users before the pandemic hit. Webex offers locked personal room meetings, password-enforced meeting connections and encrypted cloud recordings. Additionally, it utilizes the Webex lobby feature, where the meeting host controls who can enter a meeting and when. Meeting hosts and admins can give or take away access to meetings at any time from any user and supports seamless end-to-end encryption.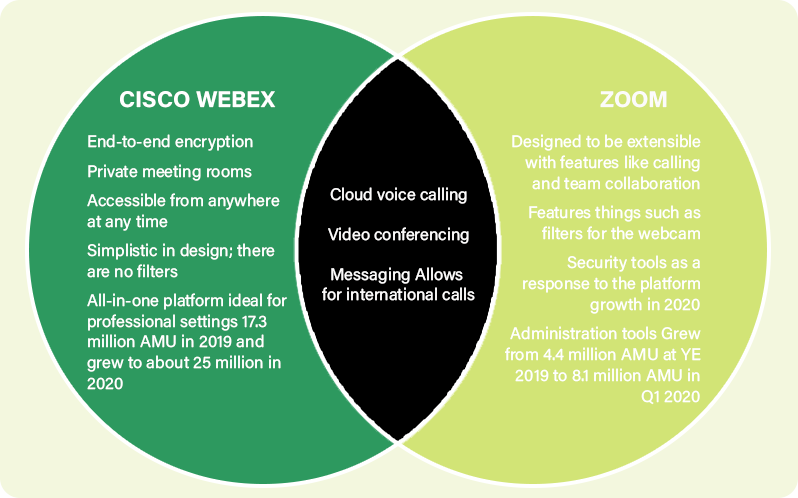 Zoom
vs.

Webex

Everyone has a preference when it comes to video conferencing. If you prefer a platform that has a lot of interesting features, including filters on the webcam, Zoom is probably a good fit for you. However, if you have a company and employees, Webex is far better of an option. You and your company's success depends on keeping your data secure, and video conferencing is no exception.
What's Right
For You?
If you're unsure of the platform best suited for your company, PCS can help. Ensure your company can continually grow by using a platform that maintains the value of your work, even when it's through a screen.